Brit Hotel Saint Malo - Le Transat
Hotel - Restaurant - Seminar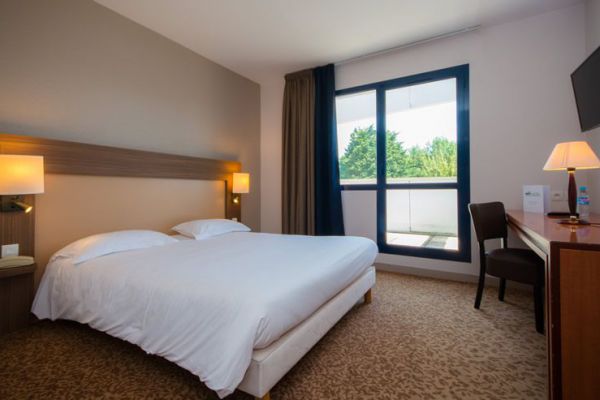 Welcome to the
Brit Hotel Saint Malo - Le Transat
website.
The Brit Hotel Saint Malo offers 53 comfortable and soundproof rooms. We also have rooms adapted for people with reduced mobility.
Le Transat restaurant can seat up to 120 people. The cooking is simple and generous. The chef introduces you to his products from the region according to the seasons.
Our hotel is very easy to access since it is located at the entrance of St-Malo, opposite the Grand Aquarium. We also have free and secure parking.
Finally, we regularly welcome companies in seminar, training courses... since we provide you with 3 seminar rooms.
Discover also on our site the tourist places to visit of Saint-Malo and its region. Saint Malo, the corsair city, welcomes you all year round, against all odds.

Car park
Free

Check-In
15h30

Check-Out
12h
> See the amenities

Home 24H/24

Night watchman

Elevator

Check-in

Check-out
Safe

Bar

terrace

53 rooms

Air-conditioned rooms

Phone

Télévisions

Courtesy Tray

Animals accepted : €9,00
Bathrooms

Hairdryer


Organization of banquets, weddings, cocktails

Free Wifi

quality Tourism

Species

Bank checks

Holiday vouchers

Carte Bleue

American Express

Tickets Restaurant

Parking private closed secure free
Coach parking

Underground private garage
Restaurant

Hotel's restaurant

Air-Conditioned Restaurant

Traditional cuisine
Terrace

Room Service

3 Room (s) seminar

120 Max capacity

Room (s) heated (s)

Breakfast Buffet : €10,50

Stopover : 85 à 105
The reviews
of our customers
Indice de
Satisfaction client
Even though the hotel is situated in an industrial zone, it was easily accessible via public transportation. The 5mn walk to the St Malo Aquarium was a huge plus. The room was nice and clean. The breakfast was excellent.

Hotelier's response :
Monsieur, Nous vous remercions d'avoir pris le temps de faire partager votre retour d'expérience à la suite de votre séjour au TRANSAT BRIT HOTEL de St-Malo. C'est avec Grand Plaisir que nous vous recevrons de nouveau dans les conditions qui seront celles de votre prochain séjour en territoire Malouin. Bien à Vous . Christine
Read more
Accessible hotel. We enjoyed the fact it was close to the center and there was shops right behind. Lot of parking available. However, wifi very slow and since COVID no cleaning service but needed more toilet paper.

Hotelier's response :
Nous ne manquerons pas de transmettre votre commentaire à notre équipe qui a cœur d'accueillir nos hôtes dans les meilleurs conditions. Effectivement dans un souci de sécurité notre charte d'hygiène notifie que durant les séjours de nos clients notre service d'étage n'interviendra pas dans les chambres; toutefois il est possible de demander des serviettes ou produits d'accueil (papier toilette) bà tout heure en réception. Nous remercions l'ensemble de nos hôtes pour leurs compréhensions. Nous sommes ravis de votre retour. Dans l'attente du plaisir de vous revoir ! Cordialement Christine
Read more
Just superb . Nothing I could fault. Just very enjoyable. And I Thank You.
Read more
The stay was very good. The hotel is very quiet and clean. Staff were really welcoming and helpful even when the firealarm set off in the middle of the night. Breakfast was as promises with a lot of choice.
Read more
I was disappointed with the room I got in the annex. The rooms are better in the main building. The staff on the other end is welcoming and professional.
Read more
Ok, very dated rooms. Looks old and tired.
Read more
I was disappointed with the room. It was a bit run down and the climatisation was not installed yet. The room was too hot at night with no air. There was no lights in the entry and the toilet seat kept falling down. There was condensation on the windows in the morning and the paint on the walls looked old.
Read more
Efficient and comfortable - and excellent one night stay prior to early ferry.
Read more
Excellent staff who tried hard to change our booking as we had arrived 8hrs earlier than expected due to a change in the time of our boat due to expected weather and industrial disputes. We had hoped to be able to change our hotel to Rennes or Nantes. Unfortunately it was not possible but an excellent effoery was made. Hotel is an ideal location and has secure parking. Rooms are well soundproofed and no road noise despite being very near a large roundabout. Rooms ok but a little tired. Pillows extremely soft and bed very hard.
Read more