Confort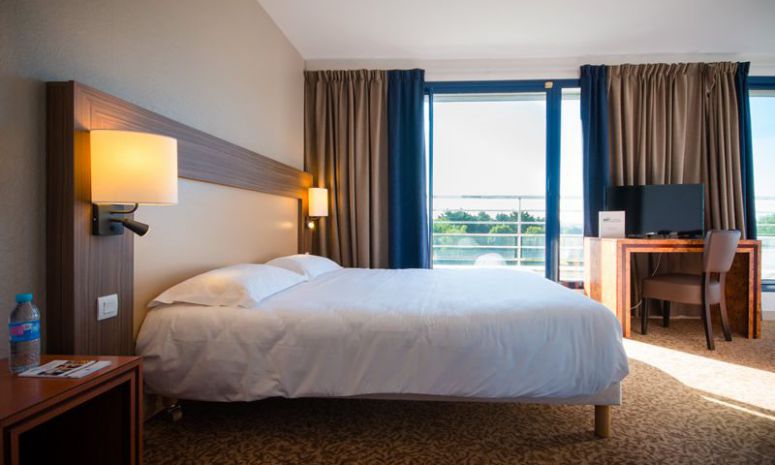 Our advantages
In front of the Gand Aquarium of Saint-Malo

10 min from the beaches of St Malo and Intra-muros

Mont-Saint-Michel 45 min away
Our rooms
Welcome to the rooms of the Brit Hotel de Saint-Malo - Le Transat !
Characteristics of the rooms
We have 53 comfortable rooms which are divided into :

Parking

Free Wifi

Home 24H/24
Restaurant

Animals accepted : €9,00
rooms with 2 single beds, called twin beds room, size 80 cm x 200cm
rooms with 1 double bed, size 160 cm x 200cm
Aussi, l'hôtel de Saint-Malo dispose de 4 chambres composées d'un grand lit et d'un lit simple, très commode pour les petites familles. Plus de 70% de nos chambres sont climatisées et 100% d'entre-elles sont renforcés d'un confort acoustique. Bien évidemment, nous disposons de 3 chambres accessibles aux personnes à mobilités réduites.
Also, the hotel of Saint-Malo has 4 rooms composed of a double bed and a single bed, very convenient for small families. Over 70% of our rooms are air-conditioned and 100% of them are acoustically comfortable. Of course, we have 3 rooms accessible to people with reduced mobility.
All our beds are equipped with duvets.
Hotel room equipment
All our rooms contain the following accessories and equipment:
To satisfy the comfort of our clients, wishing to work in their room, we have equipped our rooms with office furniture. The internet is accessible via WiFi throughout the hotel. Also, we connected you a telephone with a direct line from your room.
We can also mention the presence of a luggage rack, a mirror and an alarm clock.
To entertain you in the best of comfort, we have installed a flat screen television in each of our 53 rooms. They are equipped with theme channels, notably Canal+, Sport and Cinema.
Some of our bathrooms differ according to the type of room. Indeed, all our rooms are equipped with showers or baths but the double rooms are built with independent WC in the bathroom. However, all our bathrooms are rented with a hair dryer and many reception products.
Saint-Malo
Near the hotel
. Opposite the Grand Aquarium de Saint-Malo
. 2 min from CC La Madeleine
. 10 min from St Malo railway station
. 10 min from St Malo port
. 10 min from the Convention Centre
. 10 min from the Exhibition Centre
. 10 min from the stadium
. 10 min from St Malo city centre
. 10 min from the walled city (Remparts de Saint Malo)

Access
. Take N137 expressway (Rennes/Saint-Malo)
. Upon arriving in Saint-Malo, stay in the left lane, towards Grand Aquarium/Saint-Servan
. At the roundabout, take the first right in front of the Peugeot dealership, after 50 m the hotel will be on right side.
Even though the hotel is situated in an industrial zone, it was easily accessible via public transportation. The 5mn walk to the St Malo Aquarium was a huge plus. The room was nice and clean. The breakfast was excellent.

Hotelier's response :
Monsieur, Nous vous remercions d'avoir pris le temps de faire partager votre retour d'expérience à la suite de votre séjour au TRANSAT BRIT HOTEL de St-Malo. C'est avec Grand Plaisir que nous vous recevrons de nouveau dans les conditions qui seront celles de votre prochain séjour en territoire Malouin. Bien à Vous . Christine
Read more
Accessible hotel. We enjoyed the fact it was close to the center and there was shops right behind. Lot of parking available. However, wifi very slow and since COVID no cleaning service but needed more toilet paper.

Hotelier's response :
Nous ne manquerons pas de transmettre votre commentaire à notre équipe qui a cœur d'accueillir nos hôtes dans les meilleurs conditions. Effectivement dans un souci de sécurité notre charte d'hygiène notifie que durant les séjours de nos clients notre service d'étage n'interviendra pas dans les chambres; toutefois il est possible de demander des serviettes ou produits d'accueil (papier toilette) bà tout heure en réception. Nous remercions l'ensemble de nos hôtes pour leurs compréhensions. Nous sommes ravis de votre retour. Dans l'attente du plaisir de vous revoir ! Cordialement Christine
Read more